Travel & Venue Information
We recommend to book accommodations soon as hotels book up fast in the season.
Travel Information
Flying to the Halifax Stanfield International Airport
See the Halifax Stanfield airport website for Airlines that service the Halifax Airport.
Getting to Halifax from the Airport
The conference venue is in the city centre of Halifax, 1650 Argyle Street, Halifax.
From the airport, there are multiple transportation options, including Taxi Service, Uber, Buses & Shuttle and Accessible Transportation options as well.
Additional Travel Information
Please see here for further details about Halifax and dedicated travel information for CHES 2024 participants.
Hotels in Halifax
Participants are advised to book their accommodation early as there are other conferences in Halifax at that time. There is a sufficient number of hotel rooms in all price categories, but hotels tend to have high occupancy rates (historically, hotels are running at 94% occupied this time of year).
Hotel Block Bookings — block bookings have been made at three hotels to ensure room availability. Please check the expiration date of the block bookings below. We cannot guarantee that you will be able to find a hotel room after this date.
Independent Hotel Reservations — most hotels offer a refundable reservation option, meaning you may reserve a refundable room now and you will have up until 24-48 hours before the conference to cancel your reservation without penalty.
We strongly recommend reserving a hotel room now and canceling it later if you are unable to make it.
The downtown Halifax core is a small area and all locations are within walking distance.
Hotels with Block Booking
The following hotels offer block booking. Please check the expiration date of the block booking for each hotel since the dates vary.
Hotel Halifax
(valid until July 3, 2024 - 25 rooms)
$219/night CAD
Book online
Call: 1-833-357-8155 and ask for "CHES 2024".
Contact by mail with any questions.
The Barrington Hotel
(valid until July 3, 2024 - 25 rooms)
$219/night CAD
Book online
Call: 1-833-357-8154 and ask for "CHES 2024".
Contact by mail with any questions.
Hampton Inn
(valid until Aug 4, 2024 - 50 rooms)
$222/night CAD
Hot breakfast included
Book online
Call: 1- 902-422-1391 or 1-855-331-0334 and ask for group code "ACR".
Other Hotels
See map below with a list of all nearby hotels, all within walking distance: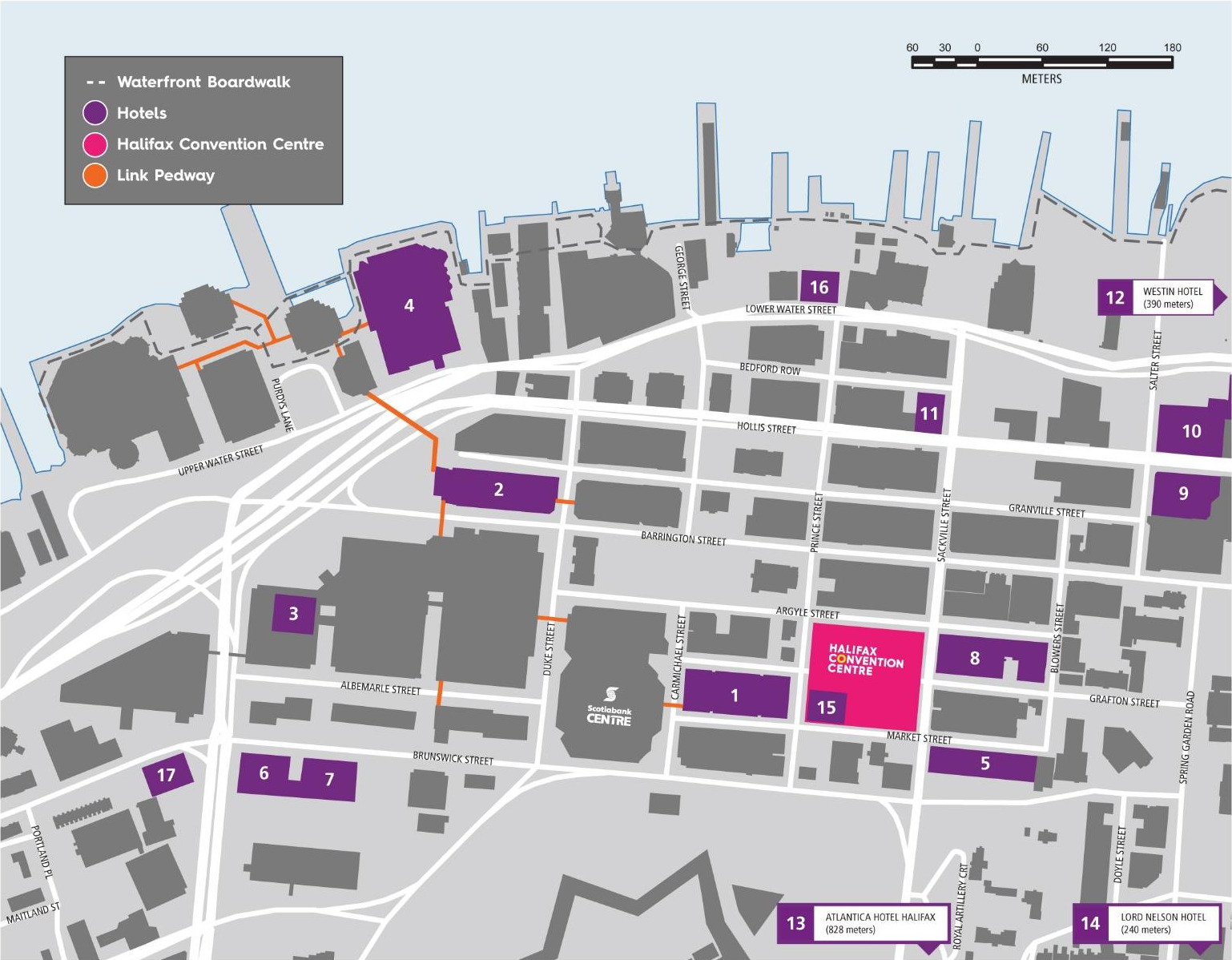 The Prince George Hotel (203 Rooms)
The Barrington Hotel (200 Rooms)
Hotel Halifax (296 Rooms)
Halifax Marriott Harbourfront Hotel (352 Rooms)
Cambridge Suites Hotel Halifax (200 Rooms)
Homewood Suites by Hilton (203 Rooms)
Hampton Inn by Hilton (316 Rooms)
Residence Inn by Marriott (92 Rooms)
Four Points by Sheraton Halifax (177 Rooms)
Courtyard by Marriott (125 Rooms)
The Hollis Halifax - Doubletree by Hilton (120 Rooms)
Westin Hotel (310 Rooms)
Atlantica Hotel Halifax (232 Rooms)
Lord Nelson Hotel (262 Rooms)
Sutton Place Hotel (262 Rooms)
Muir Halifax (109 Rooms)
Moxy Hotels Halifax (Coming Soon)
Hostel
Halifax Backpackers Hostel — is the only hostel in the city, it is a 20 minute walk to the venue.
Tourism Information
Want to turn CHES into a Canadian vacation? There are many beautiful areas to explore in Atlantic Canada!
South Shore of Nova Scotia — A beautiful area that is 1-2 hours drive South of Halifax. Home of the Bluenose racing schooner, UNESCO World Heritage Site of Lunenburg, and fresh local seafood!
Cape Breton Island — Cape Breton is a stunning location known for the world-renowned Cabot Trail, world-class golfing, and dramatic coastal views. It is 4 hours away from Halifax. More tourism information can be found here.
Bay of Fundy & Annapolis Valley — An hour drive West from Halifax. This area is known for its highest recorded tides in the world, award-winning wineries and UNESCO Cliffs of Fundy.
Prince Edward Island — is a beautiful location with breathtaking beaches and delicious food! Travel takes 4 hours by car, then either ferry to the island or cross the 12.9 km bridge!
Don't forget to check out Canada's extensive National Parks, here is the information on parks in the Atlantic region, and specifically Nova Scotia's National Parks.